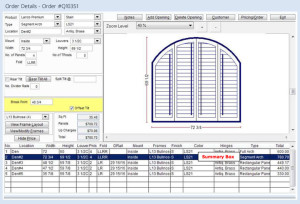 ShutterPro software is the #1 Most Widely Used Shutter Manufacturing Software In The World. ShutterPro has been installed in over 200 companies in eight countries and accommodates any type of shutter manufacturing system with proven reliability, excellent ease of use with a highly cost effective return on investment.
Software Features
Fully Integrated System
Flexible to fit any User specifications
CAD Panel Design
CAD Special Shapes Design
T-Post Design
Job Costing
Inventory Control
Purchase Orders
Dealer Specific Job Pricing
Invoicing
QuickBooks Integration
Custom Manufacturing Reports
Bar Coded Order Tracking
G & L Integration
Tablet POS Order Entry/Sales
Scale Drawing on Contracts
Be sure Watch our ShutterPro Demo or Take the Tour to see our software features in action.